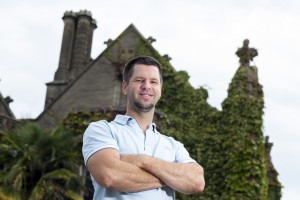 Prof. Robert S Laramee
Robert S Laramee received a bachelors degree in physics, cum laude, from the University of Massachusetts, Amherst (ZooMass).
He received a masters degree in computer science from the University of New Hampshire, Durham. He was awarded a PhD from Vienna University of Technology (Gruess Gott TUWien), Austria at the Institute of Computer Graphics and Algorithms in 2005. From 2001 to 2006 he was a researcher at the VRVis Research Center (www.vrvis.at) and a software engineer at AVL
(www.avl.com) in the department of Advanced Simulation Technologies. Currently he is an Associate Professor in Data Visualizaton at Swansea University (Prifysgol Cymru Abertawe), Wales in the Department of Computer Science (Adran Gwyddor Cyfrifiadur).
His research interests are in the areas of big data visualization, visual analytics, and human-computer interaction. He has published more than 120 peer-reviewed papers in scientific conferences and journals and served as Conference Chair of EuroVis 2014, the premiere conference on data visualization in Europe. For more information, please visit: http://cs.swan.ac.uk/~csbob/

Dr. Mohammad Shokoohi-Yekta
Mohammad is currently a Data Scientist at Apple in California and a Lecturer at Stanford University. Previously he worked for Samsung, Bosch, UCLA and General Electric Research on predictive modeling projects. He received a PhD in Computer Science from the University of California, Riverside with an emphasis on Data Mining, Machine Learning and Time Series Analysis. Mohammad is also the author of the book, "Applications of Mining Massive Time Series Data."
Prof. M-Tahar Kechadi
M-Tahar Kechadi was awarded PhD and Masters degree – in Computer Science from University of Lille 1, France. He was appointed as lecturer at the Computer Science Department of Lille University. He was awarded MC fellowship from EU at UCD. He joined UCD in 1999 as a permanent staff member of the School of Computer Science (CS). He is currently Professor of Computer Science at CS, UCD. His research interests span the areas of Big Data Analytics, distributed data analytics, heterogeneous distributed systems, Grid and Cloud Computing, and digital forensics and cyber-crime investigations. The core and central focus of his research for the last decade is how to manage and analyse data quickly and efficiently at larger scale. Nowadays we live in digital world, we produce more data than we can analyse and exploit. This `big data' will continue to grow at rapid pace, will underpin new waves of innovation in nearly every sector of the world economy, and will reshape the way we build and use computers (hardware and software).
Prof. Aoued BOUKELIF
Professor at University of Sidi-Bel-Abbes, ALGERIA, Graduate Engineer from the University of Pittsburgh (USA), holds a doctorate in electronics Engineering, and a Master UTICEF "Education Sciences" from the University Louis Pasteur ( ULP).
Professional speaker, author and consultant in educational sciences, ICTs and digital pedagogy.
His areas of expertise are digital image processing, digital TV, IT's, mobile satellite communications, biometrics, computer networks, digital pedagogy, Innovation teaching technologies, collaborative social networks, multimedia, social web and collaborative (2.0+), digital Learning strategy, process design and production tools and e-learning, project management (multimedia, search etc.), quality of management, innovation and knowledge (KM).
He currently leads the research team "Web Applications and Networks" laboratory "Communications Networks, Architectures and Multimedia" at the University of SBA.
Founder of the Mediterranean network of expertise and center of excellence in IT's research (REMETICE: http://remetice.prog.fr/), Member of the International Board of the International Association of University Pedagogy – Algerian section AIPU-dz (https://web.facebook.com/groups/AIPU.DZ/) and initiator of the Observatory for the use of IT's in Algeria. (https://web.facebook.com/groups/1441352506104478/).